Meatballs is a beef soup with vermicelli noodles, yellow noodles and bean sprouts. How to eat meatballs is with tomato sauce, chili sauce, and soy sauce and a little vinegar. It was savory and spicy.
Soup Ingredients:
3 litre of homemade beef stock
3 garlic clove, crushed
1 stalk celery
1 spring onion, chopped
1 tsp sugar
1 tsp pepper
1 tsp beef stock powder
Salt as needed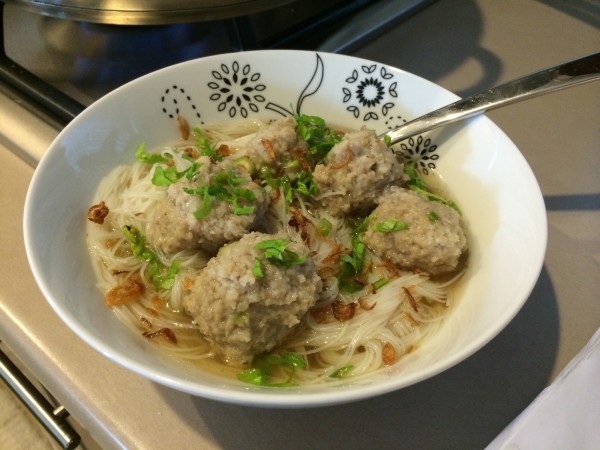 Meatball Ingredients:
250 gr Beef Mince
1 egg
1 tsp garlic powder/garlic paste
1/2 tsp black pepper
1 tbs salt
2 tbs tapioca starch
1 tbs corn starch
1 tsp baking powder (this will make the meatball bouncy)
1 tsp baking soda (this will make the meatball grow bigger)
a pinch of sugar (it's very optional, but sugar will increase the taste)
1. Put all the ingredients in a mixing bowl.
2. Mix all the mixture until well mixed. Wrap the bowl with a plastic wrap.
3. Shape it like a small ball. Directly put the ball mix into the hot water.
4. After all the mixture has been shaped as a ball in the hot water, turn on the stove again in medium heat, then bring to a boil. Leave to cook for about 5 minutes after it comes to a boil.
5. Prepare Bakso Soup and put meatball, noodle, and celery in the hot soup. Bakso is ready to be enjoyed.
http://arieskitchen.net/bakso-recipe-indonesian-meatballs-recipe/